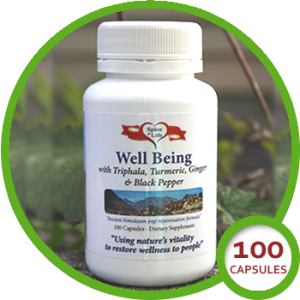 Description
Maintains a healthy digestive system & supports liver function. 
Well Being's main ingredient, triphala, acts as a gentle laxative and a stimulatant for your digestive system. These effects, as well as it's support of your liver, gallbladder and immune system, are amplified by the inclusion of turmeric, ginger and black pepper.
Together, these spices help provide you with a healthy digestive system – making sure your body gets as much goodness as it can from your food. Moreover, Well Being also helps reduce the effects of nausea, bloating and heartburn by improving your  digestion process.